Giannis Antetokounmpo has received plenty of praise for his NBA Finals performance thus far for the Milwaukee Bucks, and deservedly so. But while the two-time MVP has clearly taken his game to another level on the biggest stage, he's played like a superstar all postseason long.
The Greek Freak is averaging 29.1 points, 12.9 rebounds and 5.3 assists on 56.3 percent shooting in the playoffs and became one of only six players to score 40-plus in back-to-back Finals games. Giannis had a ho-hum 26-14-8 stat line in Milwaukee's crucial Game 4 victory, and his late-game block wasn't too shabby either.
His poor shooting — both his jump shot and at the foul line — has distracted from his consistently elite production. At times, there's been too much focus on what Giannis can't do — like dribble circles around defenders — and not enough on what he can and is doing for the Milwaukee Bucks.
The NBA is no stranger to Giannis Antetokounmpo's dominance in the paint for the Bucks, but that doesn't mean his stellar postseason performance can be taken for granted.
It's worth illustrating the historic volume and efficiency with which he's excelled close to the basket. Since 1996-97, there have been 12 instances of a player averaging >= 9 shots in the restricted area in a single postseason (minimum 100 FGAs). Giannis is well on his way to becoming the 13th and is doing so on remarkable efficiency.
(Click on chart and hover over dots to see every name)
No player that met the above criteria has ever shot a higher percentage in the restricted area than Giannis' 77.9 percent this postseason, and only Shaquille O'Neal (in 1996-97 & 1997-98) averaged more than his 10.7 attempts per game.
Although Giannis is on track to join them, O'Neal and LeBron James are the only players that have met the criteria AND shot better than 70.0 percent. O'Neal did so in 1998, with James managing it on three different occasions in 2006, 2017, and 2018.
Shaq's Los Angeles Lakers lost to the Utah Jazz in the Western Conference Finals in 1998, but began their three-peat the following season. LeBron's Cleveland Cavaliers fell to the Detroit Pistons in the 2006 Eastern Conference Semifinals but got revenge a year later — reaching the Finals in 2007 (losing to the San Antonio Spurs). In both 2017 and 2018, the Cavaliers came out of the East but lost to the Kevin Durant-bolstered Golden State Warriors.
Remarkably, LeBron has accounted for 5 of the chart's 12 data points, doing so in four consecutive postseasons from 2015-18. His 2016 run barely missed the 70-plus percent threshold but culminated in Cleveland's historic 3-1 comeback. How will Giannis' remarkable postseason run come to a close?
Giannis Stands Alone
Each of Giannis, LeBron, and Shaq have been dominant interior forces; Giannis has been compared to both, but neither comparison holds up to closer inspection. Rather than embracing this as a testament to his unique style and skill set, however, this is sometimes used to criticize him.
Giannis doesn't have LeBron's shooting, dribbling and passing abilities, but this doesn't mean he's best suited as an exclusively post-up player like Shaq either. Does he need to limit his jump shots? Yes. Is he often more effective as the roller on the P&R rather than the ball-handler? Definitely. But he's still extremely effective attacking the basket from the perimeter, and his dribbling can pressure defenses in ways a simple post-up cannot. It's easier to send help when his back is to the basket than on a face-up drive from the top of the arc — where he can see the help coming and make passes to either side of the court.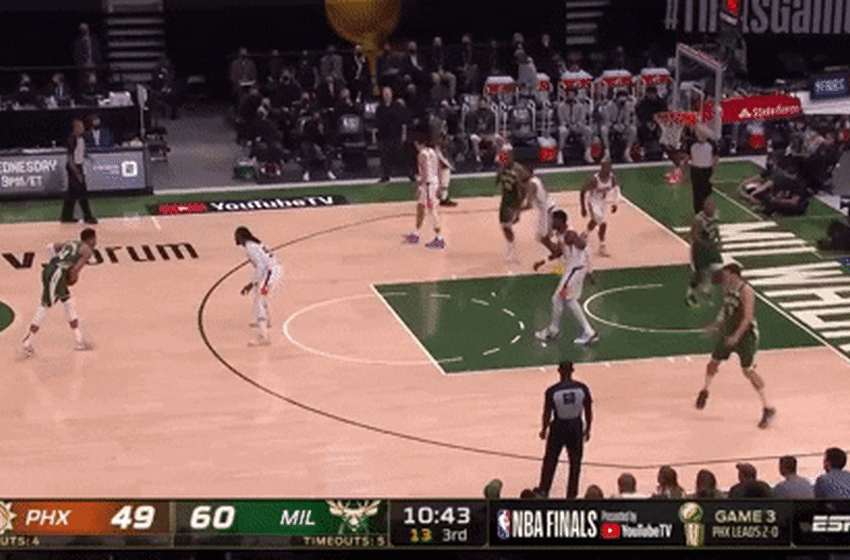 Giannis' interior dominance has been all the more impressive considering the Bucks have not shot well from three this postseason (an ugly 31.8 percent). Defenses have been sagging off every shooter not named Khris Middleton (crowding the paint), but Milwaukee has found ways to get Giannis to the rim anyway. Using him as a screen setter — something he's doing more than ever this season — has been very effective in this regard.
Going forward, one of the main keys to the series may be how long Deandre Ayton can stay on the floor, given he's the Phoenix Suns' only decent chance at slowing down Giannis. Additionally, while Milwaukee's subpar shooting might not prevent the Greek Freak from putting up elite numbers, this will need to improve if the team hopes to win it all.
As the Finals begin to come to a close, let's buckle up and hope for the fun ride to continue.
(Credit to NBA.com for statistics and House of Highlights for GIF)