According to an Eastern Conference scout Lonzo Ball "can't make shots and can't finish." Ball was drafted second overall in the 2017 NBA Draft. When he was drafted he was compared to Jason Kidd. The comparisons haven't proved to be true so far.
Ball is a crucial factor in what the New Orleans Pelicans are trying to do in the future though. His playmaking ability helps out players on the team like Zion Williamson, Brandon Ingram and Jrue Holiday. If he was able to create some offense that would essentially complete the Pelicans offense because now there is too much firepower to compensate for.
Here's what the Eastern Conference scout said about Lonzo Ball:
"He can't make shots. Not only can he not make shots, but he can't finish, and it's gotten to him… [I'd pay him] $12 to $14 million [per year] for three years, maybe?"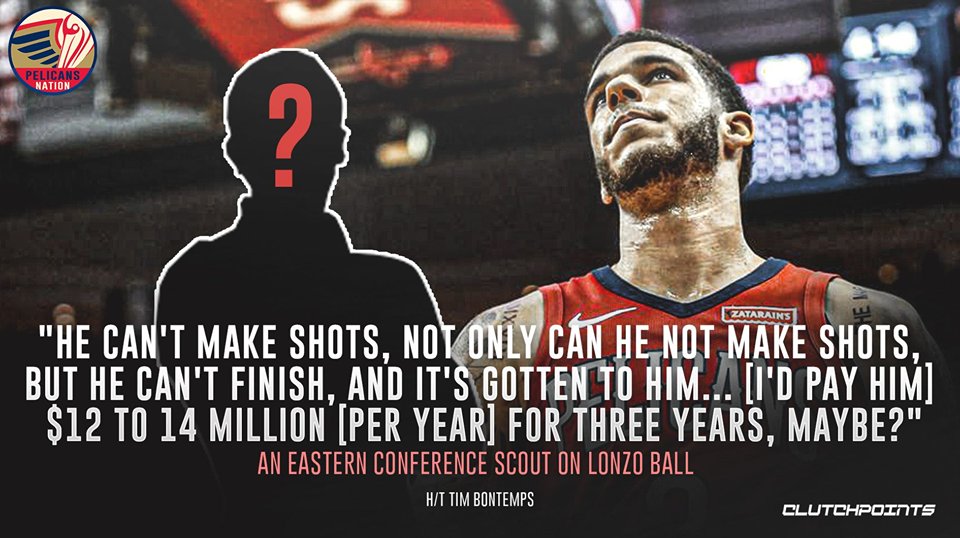 Lonzo Ball is a former second overall pick. Second overall picks have historically been big names in college like Ball was at UCLA. Also, the majority of second overall picks have been great defensively also. Most of those picks were players that were more suited for the college game.
First overall picks have been players that were more NBA ready players. Most of them have never even played in college or weren't much of a factor in college.
Ball is a player that is going to have to focus on the fundamentals and defense like college teaches you. Creating his own offense will come when he has mastered the fundamentals.